Biography
Suzan became one of the first triathlon coaches in Canada in 1989 and has worked with athletes of all
ages ranging from beginners to World Champions. As Head Coach of the #1 ranked Titans Triathlon
Team in Quebec from 1991-1998, Suzan coached many of Canada's best amateur triathletes and
duathletes from Sprint to Ironman distances. Her technical expertise in the three sports and the
transition phase in triathlons, profound understanding of level appropriate workouts and philosophy of
enjoyment has been a recipe for success with athletes under her tutelage.
Triathlon has always been Suzan's main focus, however, her coaching experience was enhanced by
accepting the position of Head Coach of Concordia University Track & Field and Cross Country Teams
during the years 1993-95. In that capacity she was fortunate to work with some Olympic level as well
as University athletes.
In Montreal, Canada in 1996, Suzan won the prestigious Femmes Des Merite (Women of Distinction)
Award for her coaching and race directing work in athletics.
Suzan is an accomplished triathlete. Throughout her career, she was ranked consistently in the top three in Canada in her age group and qualified for many National Teams in both Triathlon and Duathlon. Suzan represented Canada at the Hawaii World Triathlon Championships and short course World Championships in Lausanne, Switzerland as well as many races in the U.S.
As a child in the U.S., Suzan was an age group swimmer and a nationally competitive equestrian. She
came to running in her late teens and began racing a few years later. At that time, triathlon was a
budding sport in Canada and Suzan was drawn to the challenge of transitioning from one sport to the
next. This sport soon became her passion and her life path.

Along with triathlon, Suzan has raced on the track, the trails, road races from 5k to the Marathon and as
an adult in Masters Swim competitions. Suzan moved with her family to the United States in 1998 and
in 2000 raced to an All-American ranking as a masters triathlete before taking a hiatus from racing to
focus on coaching and family. In 2007, she returned to competition and was ranked in the AA standings
once again.
Suzan is currently coaching various groups and individuals throughout New England & Quebec,
collaborating with them to reach their triathlon goals.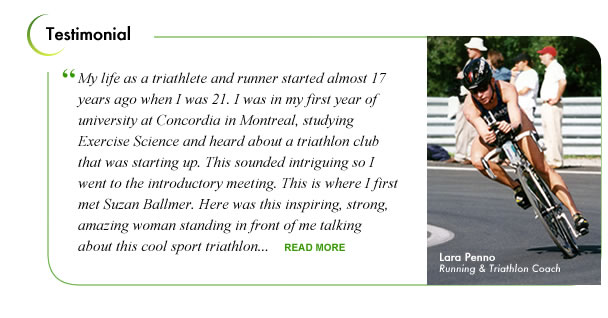 Education & Certification
Suzan holds the following credentials:
• Masters Degree in Education – McGill University
• Level II Coaching Certification U.S.A. Triathlon
• Level II Coaching Certification U.S.A. Cycling
• Level II Certification Canadian Coaches Association
• USA Swimming Coaching Certification
• Certified Personal Trainer
• Certified Fitness Tester
Philosophy
Enjoyment in and respect for the process of triathlon training is paramount to success. This sport gives each athlete the opportunity to allow their physical bodies, their minds and their emotions to work in harmony. Suzan believes an abundance of joy can be found through this training process.
Achievement in triathlon comes from creating a fine balance in the training for swimming, biking, running and the transition. For each athlete, the complex requirements to produce balance are different, ever-changing and evolving. In order to address the demands of physical & mental training, the coach and athlete must be "in-the-moment" while constantly re-assessing and looking ahead to the future.
A respectful approach to training and racing on all levels is extremely important. Making a commitment to become educated about triathlon and being respectful of the rules are key components to enjoying each outing. All the distances in triathlon are tests of endurance. The training it takes to complete even a sprint is significant and requires that each athlete must tune in and listen to their body, be clear about the training and racing process and take the time necessary to prepare.
Methodology
Great results come with a strong focus on the process of training. Studies have confirmed what many coaches already knew — it is during the consistent practice which incorporates work on correct form and technique that athletic excellence is discovered. Therefore, the trainings must be level appropriate, challenging and provide each athlete with an experience that compels them to return and train again.
There is not one method that works for everyone. Suzan's approach is to be guided by the needs, passions and level of each athlete individually.
Through careful observation and experienced listening, Suzan makes an assessment and then she designs periodized programs that build a strong foundation in swimming technique, cycling efficiency and running economy. This is done through work on drills and skills in each sport individually and the triathlon as a whole. This work is combined with trainings that build aerobic capacity and increase strength and speed so that each athlete is ready to meet their goals during race season.